Rugby Africa Cup Pool matches will commence on July 3 2021 with Kenya, Namibia, Uganda and Tunisia hosting the matches.
12 teams including the Rugby Africa Repechage winners will take part in the Pool stage. The 12 teams have been divided into four pools with each pool having three teams. Top seeded teams as per their performance in the 2018 Rugby Africa Gold Cup have been awarded their respective pools' hosting rights.
Kenya will host Pool B matches having finished second in the 2018 World Cup qualifiers. They are grouped with Zambia and Senegal. Kenya Simbas will face Senegal on 3 July in the opener scheduled for Nairobi. Zambia and Senegal will face off four days later in Nairobi.
The Simbas will be back in action on Saturday 11 July to play Zambia in the final match of the pool. African Champions Namibia will host Pool A matches in Windhoek, with their opponents being Madagascar and Cote d'Ivoire. Namibia will also kick off their campaign on 3 July 2021 against Cote d'Ivoire. Cote d'Ivoire will then return to action on Wednesday 7 July against Madagascar in the second match slated for Windhoek. Namibia will conclude their pool stage matches on 11 July with a match against Madagascar.
Uganda will host Pool C matches following Uganda Cranes' third-place finish at the 2018 Gold Cup. They have Algeria and Ghana as their opponents. Tunisia will host Pool D matches where they will square it out with Zimbabwe Sables and Repechage winners. Their matches will be played between 10 and 18 July.
The Top two teams from each Pool will proceed to the last eight (knock out stage) which will be the Rugby Africa Cup 2022 and the World Cup qualifiers final round.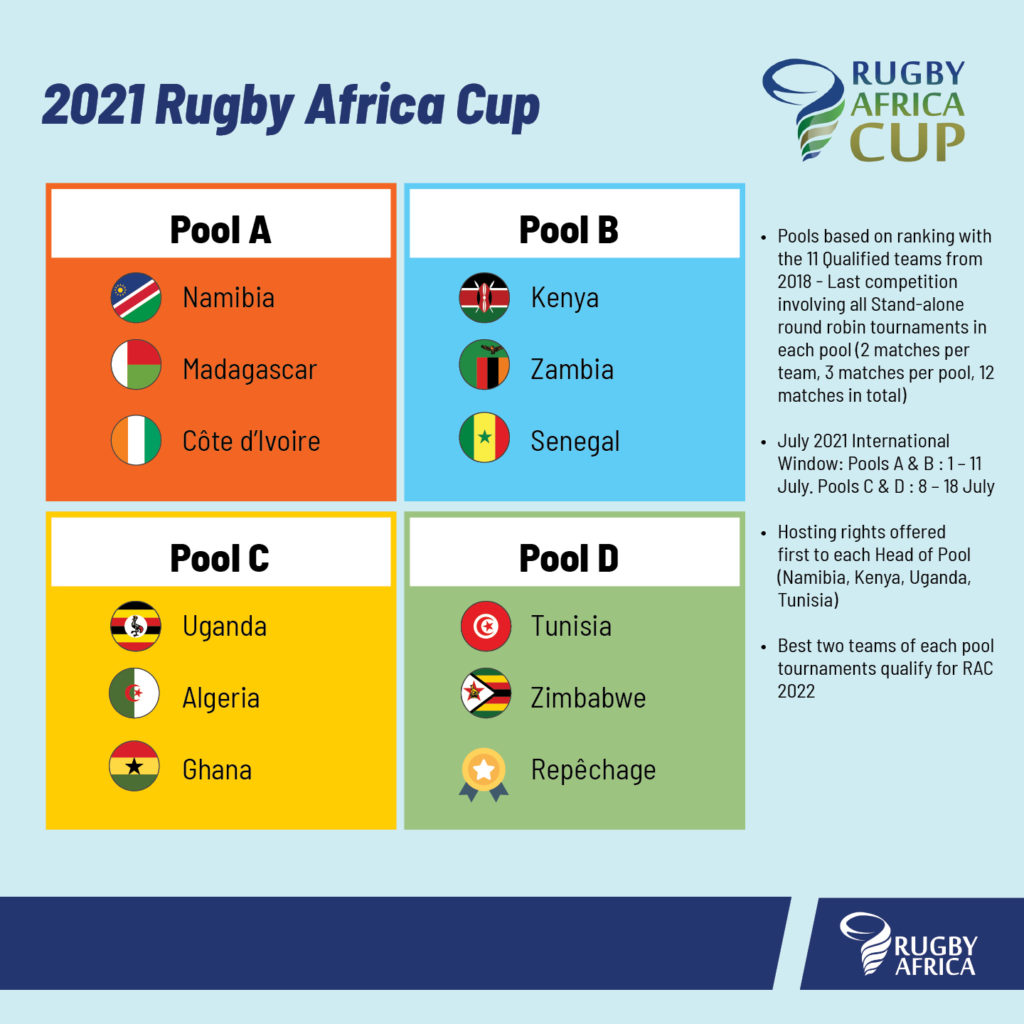 Pools
Pool A: Namibia, Madagascar, Cote d'Ivoire (To be host in Windhoek, Namibia)
Pool B: Kenya, Senegal, Zambia (To be hosted in Kenya)
Pool C: Uganda, Algeria Ghana (To be host in Kampala, Uganda)
Pool D: Tunisia, Zimbabwe, Repechage winner (To be hosted in Tunisia)
Fixtures
Saturday 3 July 2021
Pool A: Namibia vs Cote d'Ivoire -Windhoek
Pool B: Kenya Simbas vs Senegal -Nairobi
Wednesday 7 July 2021
Pool A: Cote d'Ivoire vs Madagascar -Windhoek
Pool B: Senegal vs Zambia – Nairobi
Saturday 10 July
Pool C: Uganda Cranes vs Ghana -Kampala
Pool D: Repechage winner vs Tunisia-Tunis
Sunday 11 July
Pool A: Namibia vs Madagascar – Windhoek
Pool B: Kenya Simbas vs Zambia – Nairobi
Wednesday 14 July 2021
Pool C: Ghana vs Algeria – Kampala
Pool D: Repechage winner vs Zimbabwe Sables- Tunis
Sunday 18 July 2021
Pool C: Uganda vs Algeria
Pool D: Tunisia vs Zimbabwe
2022 Rugby Africa Cup (World Cup qualifiers)
Quarterfinal 1: Pool A 1 vs Pool D2
Quarterfinal 2: Pool D1 vs Pool A 2
Quarterfinal 3: Pool B1 vs Pool C2
Quarterfinal 4: Pool C1vs Pool B2
Semi-finals
Semi 1
Winner QF1vs Winner QF2
Semi 2
Winner QF3 vs Winner QF4