Samurai 7s have released their squad set to take part in Amsterdam 7s at Sportpark De  Eendracht on 1-2nd June. 
Five Kenyan International who featured at the European 7s  as the side finished fifth have kept their places in the team. Mwamba trio Michael Agevi, Collins Injera- who bagged nine tries in St Petersburg and Billy Odhiambo will feature for the side in Amsterdam.
Last weekend skipper Nakuru's Oscar Ouma and Kabras winger Felix Ayange will also be on board for the trip.
Logan Basson will not travel with the side. The likes of Josh Moon, Miko De Wet, Joosh Bassingthwaighte, Pieter Schoonraad being picked from South Africa to represent the side. This weekend's squad will be lead by Nick Wakley and Kevin Maggs,
Ayange was part of the 2018 squad that won the main cup title with Samurai in 2018's Amsterdam 7s, Philip Wokorach and Leonard Mugaisi were also part of the squad that achieved the fate.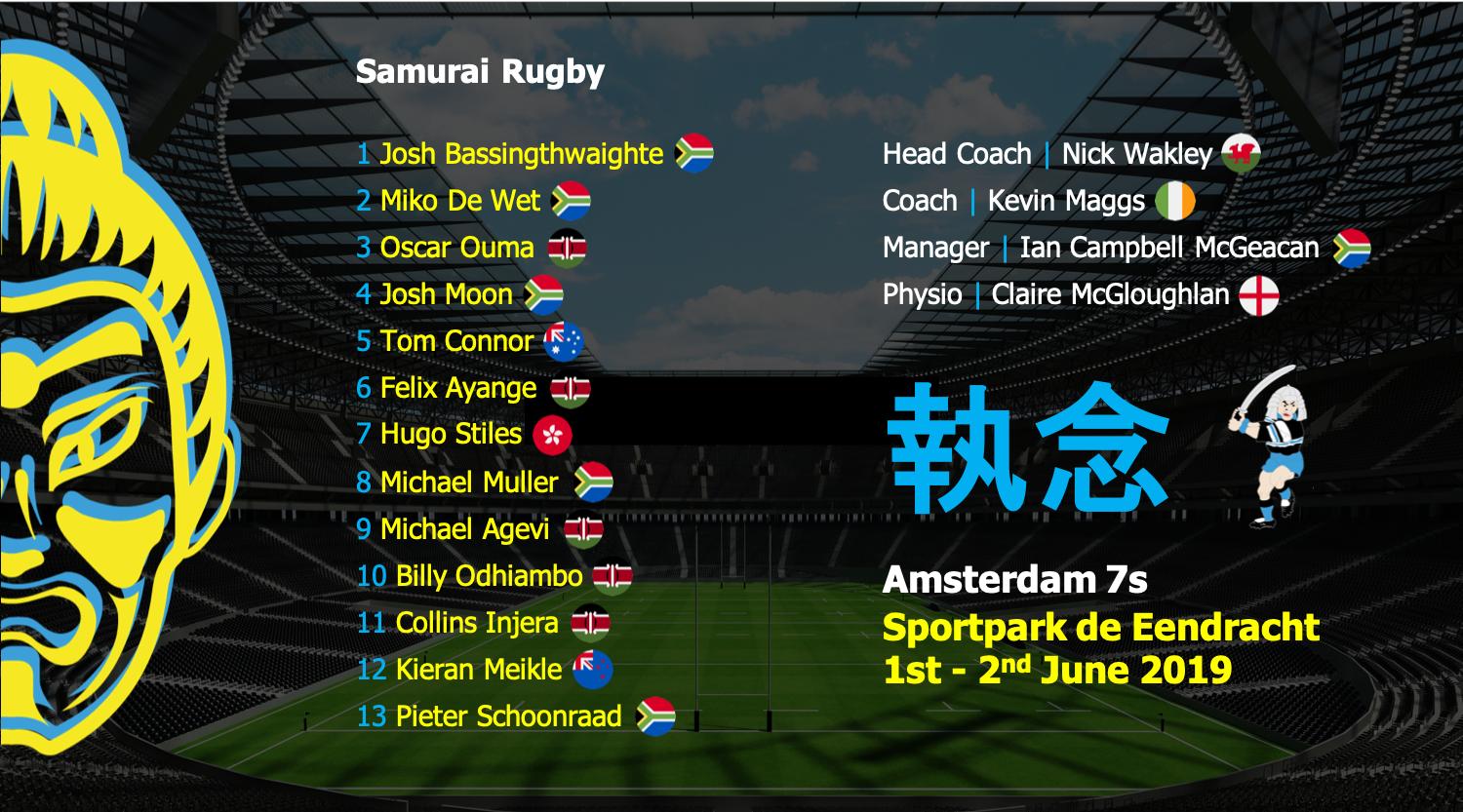 Teams that will grace the event include:
– 3/4 DM RFC (ITA)
– 7 Fantastics (FRA)
– A.S.R.V. Ascrum (NLD)
– AAC Amsterdam (NLD)
– Alkmaar Hunters (NLD)
– Amstelveen RC (NLD)
– ASC Dukla (CZE)
– Castricum (NLD)
– Dambusters (ENG)
– Danish Vikings (DNK)
– DSR-C (NLD)
– Euskadi Basque Country (ESP)
– KHM Wolves (NLD)
– Lithuanian 7s (LTU)
– Mo Bro's (INT)
– Nederland 7s (NLD)
– Nyenrode 7s (INT)
– Oxfam Crusaders 7s Club (ENG)
– Oysters (NLD)
– Powerbomb 7s (SCO)
– Projecx Waterboys (SCO)
– Rah Rah Roosters (INT)
– Rex club red kites (SCO)
– RFC Haarlem (NLD)
– Romania 7s (ROM)
– RSRC (NLD)
– Russian national rugby 7s development team (RUS)
– Russian national rugby 7s team (RUS)
– Samurai international (INT)
– Scavengers 7s (FRA)
– Seventise (FRA)
– Shandong provincial rugby sevens (CHN)
– Team turn over (NLD)
– Transact Pro (LVA)
– Wooden Spoom Marauders (ENG)