Kenya Harlequins survived a late scare from Mwamba to win 29-26 in a rescheduled Kenya Cup match played on Sunday at the RFUEA Grounds.
Mwamba came to the RFUEA Grounds seeking to revenge a 25-6 loss which they suffered in the Impala Floodlit Plate finals.
Quins, however, started off strongly from the word go. After a penalty inside Mwamba's  22, Aaron Ofoyrowth opted for a line out. From the lineout, Peter Misango went over for Quins first try of the season.
At the other end, Brian Kivasia missed the chance to cut the gap to two points after sending his penalty attempt wide.  Quins immediately launched an attack and minutes later it bore fruits as they were awarded a penalty try following an infringement from the scrum by Mwamba.
Charles Cardovillis coached side added the third try of the match through Idris Kakai who was fed by a pass from Alex Olaba. Mwamba Pulled back with Brian Kivasia touching down at the left corner but Elvi Namusasi's conversion attempt sailed wide for a 17-5 scoreline.
Kenya Harlequins headed to the break in a comfortable 24-5 lead, they scored the final try of the half through Patrice Agunda's converted try.
The first serious action of the second half saw Solomon Okia race onto his own kick to touch down the fifth try for Quins but Wanjia failed to send them past the 30-point mark after sending wide his conversion.
The try served as a wake-up call to Mwamba who responded with a try by Pharell Mtani after a maul. Michael Agevi would add the third and fourth try for Mwamba and they were all converted sending the final minutes of the clash to tense mode.
Kenya Harlequins would hold on to win the match by a three-point gap.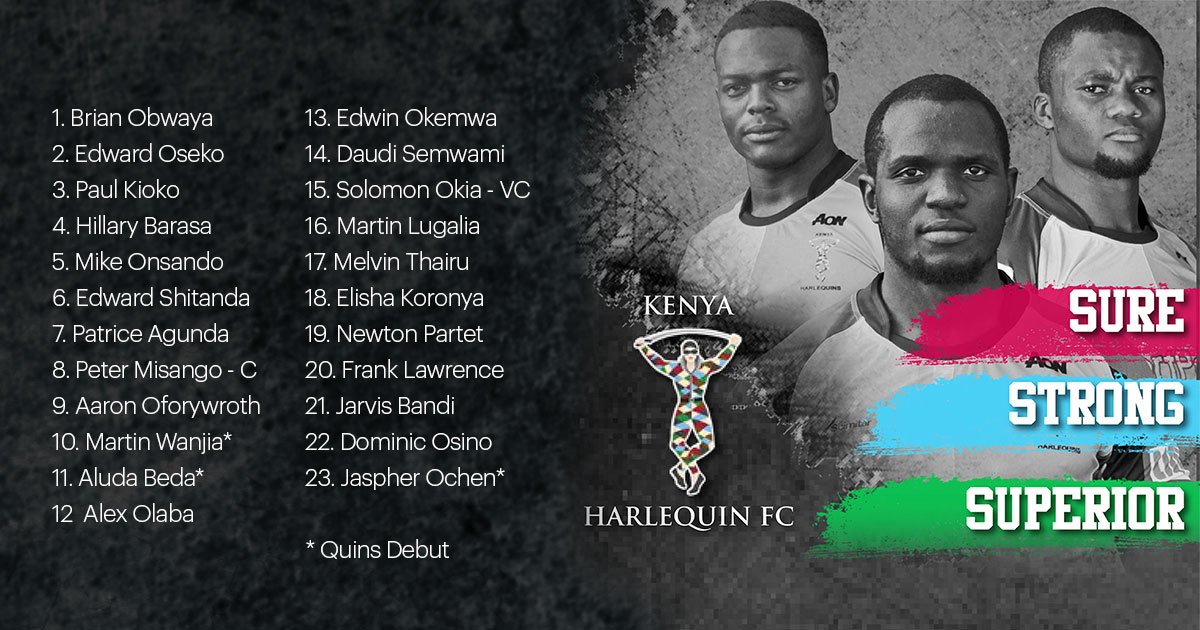 Quins squadMwamba Squad: 1. Tom soteri 2. Kevin Kerore 3. Deus mudaki 4. Steve Wangondu 5. Paul wahome 6. George omolla 7. Ken okwado 8. Tony Owuor 9. Martin Oyugi 10. Elvis namusasi 11. Joel inzuga 12. Patrick ruhiu (c) 13 Mike Agevi 14. Mike Owiti 15. Brian Kivasia
Replacements 16.Brian Kahura 17. Wycliff Mwema 18. Yuko Alfred 19. Gideon Mbithi 20. Pharell Mtani 21. Eugene Nzioka 22. Eliakim Kichoi 23. Brad Nahashon