Nondies and Mwamba have revealed their squad that will battle on Saturday at Jamhuri Grounds in a Kenya Cup match.
The Rangers have Ernest Ngong, Frank Mutuku and Wesley Odhiambo. Ronnie Mwenesi and Brian Sinei are the locks. Valentine Etyang and Steve Otieno are the flankers while Steve Odhiambo will be the eighth man.
Ian Mabwa and Biko Adema stay at scrum-half and fly-half respectively. Mark Ongayo and Thomas Ochieng have been drafted on the wings.
Eric Gitau and Moses Begi are first centre and second centre respectively. James Odong has started at number 15.
Mwamba
Mwamba have Ronnie Omondi at fullback while Mike Okello and Alex Aturo are wings. Captain Patrick Ruhiu and Joel Inzuga are the midfielders.
Martin Oyugi and  Brian Mwangi have been tasked with playmaking roles. Stephen Sikuta, George Omolla and Edwin Machanje are the loose forwards.
Deus Mudaki, Salaton Muturi, Jonah Mbari, Andrew Chogo and Christopher Asira are the tight five. Mwamba will be keen to end the season on high are the prepare for Kenya Cup playoffs.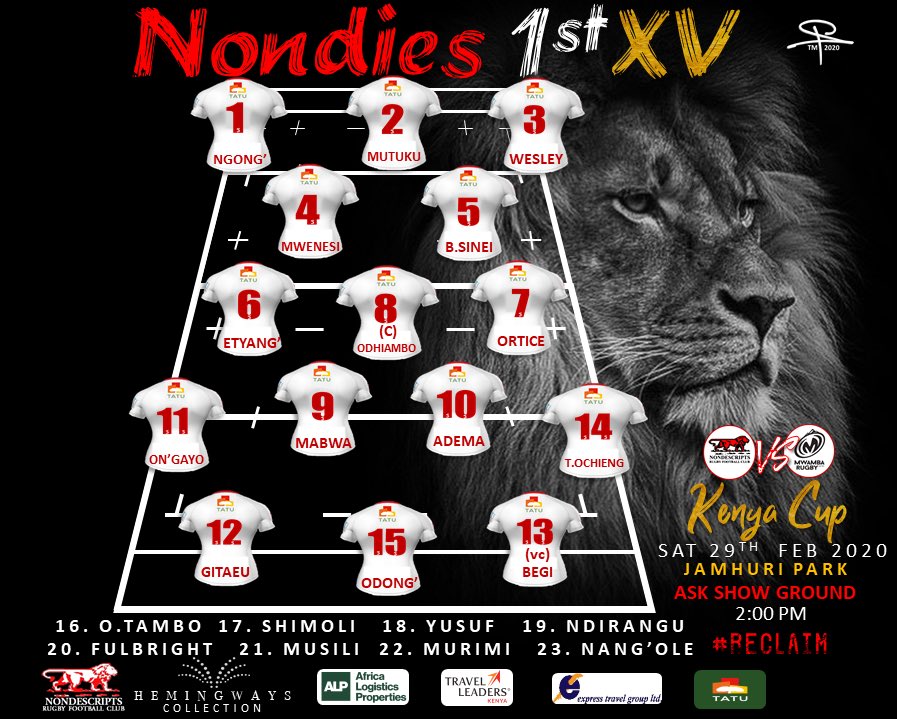 Mwamba: 1. Deus Mudaki 2. Salaton Muturi 3. Jonah Mbari 4. Andrew Chogo 5. Christopher Asira 6. Stephen Sikuta (CC) 7. George Omolla 8. Edwin Machanje 9. Martin Oyugi 10. Brian Mwangi 11. Alex Aturo 12. Patrick Ruhiu (C) 13. Joel Inzuga 14. Mike Okello 15. Ronnie Omondi
Replacements: 16. Eugene Sudi 17. James Yuko 18. Tom Soteri 19. Paul Wahome 20. Tony Owuor 21. Eugene Nzioka 22. Michael Agevi 23. Tony Omondi